...letters, finds
and randomness!
Dear August,
HELLO! You kinda came out of left field, but you hold lots of good stuff...work starts in 10 days (yikes), Austin turns 18, Jamie turns 27 (double yikes on them two!) and Frankie and I celebrate 20 years of bliss!
I made reservations for a nights stay aboard the QE2
20 years deserves a little pampering....that's like 140 dog years...but I mean that in a good way!
I'm so happy to be spending an eternity with w/my honey...and then some!
Dear Topanga Vintage Fair,
You rocked my world this week!
My other goodies are
HERE
I've been searching for you...Every 4th Sunday for almost a year...
Ohhhhh but you were so worth the wait.
Do you hear that? It's me swooning (hee hee) You're not actually working...yet
But my beloved will see to that!
Dear Evil Ovary,
you suck
Dear Mom,
I love that you are so happy in your new home. I mean bocci ball? Wii Bowling? Jewelry making? Playing in a kitchen band?
Yeah you!
Dear Dad,
I'm REALLY sorry you and mom aren't spending your golden years together. That REALLY sucks
Dear heart,
I bet YOU were surprised when I walked this morning...and up that big ole hill too? Well how can I face 50 and fabulous if I'm not healthy from the inside out? Get use to it cause I'm hitting 50 with a *BOO YAH!
*according the Urban Dictionary..."Bam", "in your face" and "hell yeah" 50!
5 random facts:
I hate the yellow aphids on my milkweed-how can my critters eat with ya'll moving in?
I need a night vision camera to see what wild animal is leaving me "presents" on my front lawn
I've been stalling all morning to do something unpleasant...but I HAVE to do it...again
I'm on my 2nd cup of coffee...before noon
I love posting on IG
Happy (enjoy the last of summer) snapping!
xo
Kelly
Linking up with Kim
and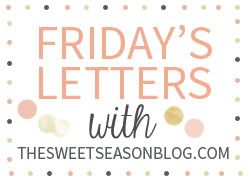 and for the first time...